Moving? Preparing your home to sell? Renovating? Or have you noticed that your garage and basement are overflowing?
We have what it takes to make your life easier. Maybe your business is growing and you need a safe place to store overstock or equipment? A NH Self Storage Mobile Storage unit can be delivered right to your home or business and instantly solve your problem. You can load and unload your unit at your own pace, without having to travel back and forth to a traditional storage facility. When you are ready to move the unit to a new location, we pick it up and deliver it for you. Let us store it for you in our Hooksett warehouse. No need to rent a moving truck. A secure, convenient and affordable mobile storage unit from NH Self Storage is the answer.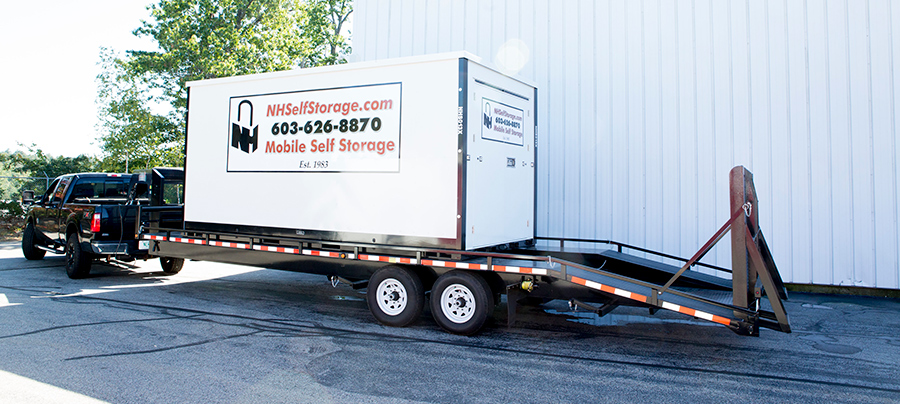 Information on Mobile Units
Our units are 8' x 16' (128 square feet) and $175.00 / month with a $35.00 security deposit.
Units can be delivered to your location! Unit delivery and transport rates are calculated based on the distance from our mobile base office in Hooksett NH 03106. Call for a quote today!
Climate Control Warehouse storage is also available at our Hooksett location for an additional $45 per month.
Terms: Each unit rental is a month to month lease. Transactions are Credit Card only, and will be set to 'AutoPay'.
Locks and Packing / Moving Supplies are available in our Hooksett Office
Find out More About Mobile Storage Residential and Commercial Uses:
Commercial
Store seasonal or inventory or materials, Record Storage, store display racks or un-used promotional items, on or off-site inventory control, store Job site tools and materials.
Residential
Moving, Staging your home for sale, Home Improvement Projects, Disaster Repairs, Estate Sales, Seasonal Storage.
We are ready to serve your storage needs at the following locations in New Hampshire
Hooksett Self Storage
101 West River Rd
Hooksett, NH 03106
(603) 626-8870
Gilford Self Storage
10 Gilford East Dr
Gilford, NH 03249
(603) 524-5344
Manchester Self Storage
2200 Front St
Manchester, NH 03102
(603) 623-8843
Wolfeboro Storage Center
601 Centre St
Wolfeboro, NH 03894
(603) 569-4442
Meredith Self Storage
16 Enterprise Court
Meredith, NH 03253
(603) 279-7884
Shawmut Self Storage
928 Central St
Franklin, NH 03235
(603) 934-2525